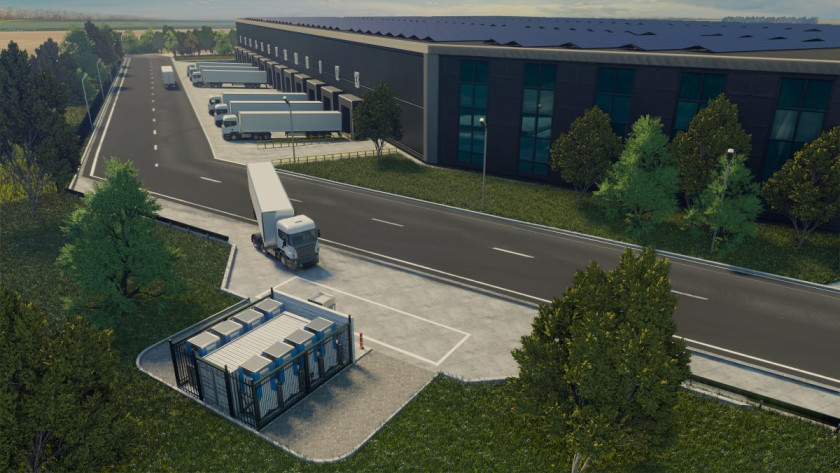 From wind to wheel: electric or prefer hydrogen? That is the question TNO will investigate with HYGRO Technology. Currently, the cost of electrical infrastructure and the characteristics of the electricity market determine the design of wind farms and thus the amount of wind converted to usable energy. The question is how the design of turbines and farms, and thus economically extractable wind energy, changes by switching to hydrogen as the primary energy carrier between turbine and off-take in the transport sector. The research is supported by the Top Consortium for Knowledge and Innovation (TKI) Offshore Energy.
The design of wind farms and wind turbines, and hence the cost of electricity, is heavily influenced by infrastructure costs. The cable network must be laid out heavily enough to transport peak production during high winds. The amount of recoverable energy increases exponentially at higher wind speeds. So when a wind turbine is designed to generate more energy with increasing wind speed, the cable network must be laid out more heavily to dissipate that energy. But a wind turbine can also be designed so that a wind turbine reaches its maximum output as early as wind force 5 and then runs for as many hours as possible at that fixed peak output, putting optimal load on the cable network rather than heavier. Producing even more energy above that wind speed is possible, but less profitable due to the higher construction costs of the cable network. In addition, the market value of that electricity at high wind speeds is actually very low due to an occurring surplus of production on the market, generated by wind energy.
An optimal wind turbine design to generate more hydrogen at higher wind speed does extract significantly more energy from the wind. Transporting energy through hydrogen pipelines is much cheaper and can handle peak production much more easily. Other very important advantage in addition is, the energy can be stored in that pipeline. This will greatly change the economics of winnable energy, through that smart conversion to hydrogen in the wind turbine, and with it the design of wind farm and turbine. Initial calculations suggest that up to twice as much energy could potentially be extracted from the wind with the available sea surface area where the Netherlands plans to build turbines, at a lower cost than with electricity.
Two separate chains considered in conjunction
For the study, it is assumed that the hydrogen will be used for trucks. When it comes to charging electrically powered trucks, the cost of electric infrastructure also plays a major role and hydrogen could potentially offer opportunities. This will also include looking at the difference in efficiency between battery electric and hydrogen electric.

Jan Willem Langeraar, co-founder of HYGRO comments: "There is often debate about whether using hydrogen as a fuel is a good idea. Some argue that battery electric vehicles are three times more efficient and therefore cheaper, because of the energy conversions required. But it is often overlooked how hydrogen affects the overall energy yield, as well as the cost of the infrastructure needed for fast charging compared to hydrogen filling stations.
Hydrogen trucks are lighter because they do not need to carry a large battery pack, resulting in less energy to transport goods. On the other hand, batteries are more efficient than fuel cells. The cost of batteries is falling rapidly due to new developments and large-scale production, and the same is happening with fuel cells and hydrogen tanks. It is positive that TNO is taking an integrated look at both systems and is likely to offer new science-based insights for the ongoing discussion."

TNO Wind Energy, supported by HYGRO and the TNO vehicle engineering department, is investigating which is more cost-effective: transporting wind energy to land and delivering it to electric trucks, or the route via hydrogen infrastructure. In doing so, TNO will investigate how the two combined complete chains of energy generation and use in various modes of transport compare.
Piet Warnaar, Senior Business Developer Wind Energy: "The great thing about this study is that it harks back to the design basis of wind energy, TNO's speciality since the 1980s. We expect this study to provide new insights that will enable the Netherlands to contribute to innovation in wind energy again."

Making the transport industry more sustainable by efficiently generating and integrating hydrogen through wind power in the wind turbine seems very promising. Here, hydrogen and electric-powered vehicles could replace current fossil-fuel trucks. Energy carriers play an important role in vehicle efficiency. Especially within the transport sector, where margins are generally low (<2%), it is important to know how the distribution sector will develop in the coming years in terms of costs and performance of energy sources.
Focus on transport sector
Mobility currently accounts for 19% of total energy consumption. Around 50% of total fuel consumption is due to heavy freight transport. Given cost developments within the transport sector, several reports predict that as early as 2035, the vast majority of freight transport will be possible without CO2 emissions.

TNO will now investigate these chains and HYGRO Technology will provide support in terms of data supply.