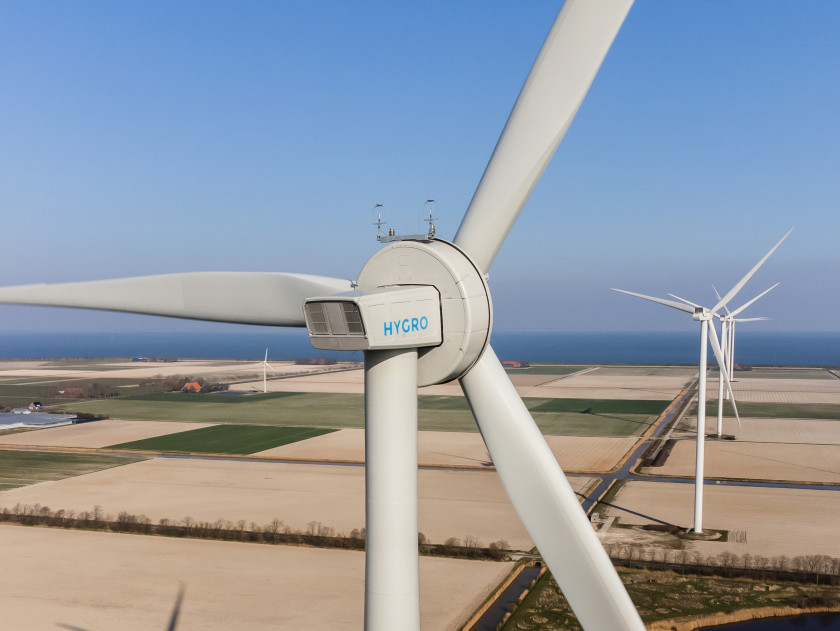 Since 2021, the hydrogen turbine at the ECN Wind Turbine Test Field Wieringermeer has been operating. This turbine marks an important step in the production of green hydrogen. The project is an integral part of 'Duwaal', an initiative to develop the regional marketing of hydrogen. A hydrogen mill is a wind turbine in which electrolysis is connected directly at the source. This integration allows the turbine to produce both green electricity and green hydrogen extremely efficiently.

Electrolysis directly at the source
In this project, the wind turbine and the electrolysis are still physically separated, but already coordinated. Thanks to this alignment, conversion steps and associated energy losses are avoided. The arrival of the first hydrogen turbine is an important step in making green hydrogen affordable. In addition, it also helps to relieve the region's overburdened electricity grid. At the same time, it also overcomes the problem of storing renewable electricity. HYGRO uses a 4 MW turbine with a tip height of 180 meters. At a subsequent mill, the electrolyser will be integrated into the hydrogen mill.
Part of hydrogen chain
HYGRO's wind turbine is the first step in the hydrogen chain. In this project, we demonstrate that in addition to the avoided energy losses, the electrolysis system itself is significantly more efficient than commonly thought. Compared to large-scale grid-connected electrolysis schemes, much more hydrogen can be extracted from wind energy, at much lower cost by applying electrolysis directly at the energy source. Thanks to both the efficiency gains and the application in transportation, many CO2 emissions and noise, NOx and particulate matter emissions are avoided.
Cooperation
The wind turbine was realized with financing from Triodos Bank and sustainable investment institution Meewind. Currently, green electricity generated from wind energy is already supplied to consumers and business customers through energy supplier Greenchoice. In the short term, the wind turbine supplied by ENERCON will also be used for hydrogen production. The hydrogen turbine is part of the Duwaal project which includes cooperation with RVO Nederland, Ontwikkelingsbedrijf NHN, New Energy Coalition (NEC), AVIA Marees and TNO.