Welcome to the future of hydrogen refuelling stations! We offer an innovative hydrogen dispensing system that can revolutionise your gas station, service center or distribution center. Whether you're starting small or looking to expand, our flexible entry-level system is designed to meet your growing needs. Our lease options include maintenance and hydrogen inventory management to keep your system running at peak performance.

We supply everything you need for your refuelling system, including high-pressure iBundles filled with compressed hydrogen and equipped with intelligent technology for optimum use. In addition, our fixed or flexible satellites (refuelling stations) come with optimally designed dispensers for 350 bar and 700 bar refuelling. We also offer a quick scan upfront to determine the best options tailored to your unique situation. Join us today to fuel the future!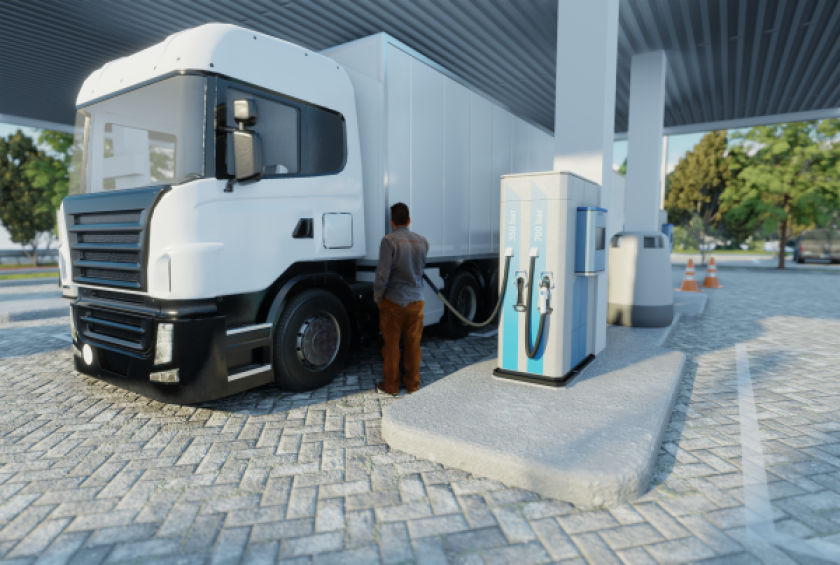 No Compressor Needed at Your Filling Station
As production scales up, hydrogen-powered trucks will become price competitive with battery electric and diesel trucks. In many regions, the electricity grid is struggling to meet the growing demand for electricity, hindering the expansion of fast-charging stations for the transport sector. HYGRO offers a scalable solution with green hydrogen. By producing green hydrogen directly from sustainable sources and storing it under high pressure, hydrogen refuelling stations can operate without on-site compressors. This makes green hydrogen a smart and cost-effective way to ensure a seamless match between energy supply and demand. In terms of charging power, a hydrogen refuelling station is more affordable than an equivalent charging station.
Transportation Sector Switches to Hydrogen
Hydrogen is rapidly gaining ground as the ideal alternative to diesel in the commercial transport sector. When it comes to the profitability of transport operations, availability, flexibility and payload capacity are key factors. Hydrogen vehicles excel in all three areas. Unlike battery-electric trucks, which have longer charging times, hydrogen-powered trucks offer a short refuelling time of less than 10 minutes. For example, while a Volvo FH electric truck takes 9.5 hours to charge with AC (43 kW) and 2.5 hours with DC (250 kW), a similar hydrogen-powered truck can be refuelled 15 to 57 times faster. In addition, hydrogen-powered trucks can achieve an impressive range of over 700 km. Recognising these benefits, major truck brands are actively developing hydrogen-powered models.
Green Hydrogen: cheaper than diesel

The HYGRO satellite hydrogen refuelling station is designed to simplify the process of offering green hydrogen to customers. In the beginning at a competitive price compared to diesel and it will become cheaper in the future. Here are the advantages:
No compressor: high reliability, low investment cost and low maintenance cost.
Scalable with demand: can be expanded in increments of approximately 60 kg/day.
Equivalent to a 4 MW fast charger with no grid congestion issues.
Affordable green hydrogen with your own branded dispensers.
Comprehensive support: HYGRO takes care of maintenance, inventory management and logistics.
High quality hydrogen: Due to our production, the hydrogen is free of contaminants. This extends the life of fuel cells and improves their efficiency compared to hydrogen sourced from fossil fuels.
The most cost-effective solution from a sustainable source to the wheels.
Download our brochure for detailed information on filling speeds and specifications. Feel free to contact us to discuss the possibilities for your specific situation.
Interested in exploring the possibilities? Give us a call or fill in our contact form and we will be happy to discuss how we can meet your specific requirements.

Douke Visserman

Business Development

Esther Lunenborg

Project Development
Do you have any questions regarding HYGRO's filling & fuelling system?
Please fill in the form and we will get back to you asap.