Duwaal: producing, distributing, fueling and driving green hydrogen in North Holland
Duwaal is a series of subprojects in North Holland in which HYGRO is participating. Our goal? To produce and offer hydrogen at a cost comparable to diesel. To this end, we will also build (in cooperation) filling stations where green hydrogen can be refueled. To achieve this, we are aligning the entire chain. Hence our motto "From Wind to Wheel".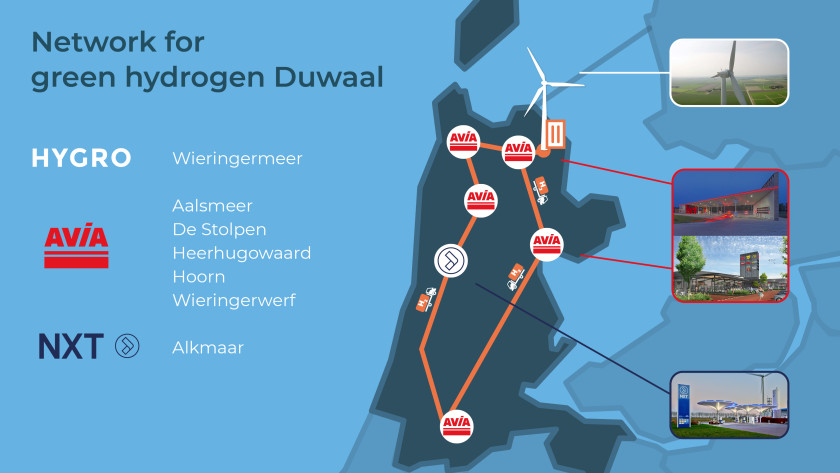 Main points of the project:
Hydrogen production directly in or near a wind turbine.
Storage, transportation and distribution of high-pressure hydrogen. From the wind turbine producing hydrogen to five different hydrogen refueling sites.
Procurement and management of 50 to 100 hydrogen trucks.
By realizing everything at once, we have scale and volume from the beginning. We take full advantage of the opportunities offered by hydrogen. With this we break the chicken-and-egg dilemma and make financing possible.
Future hydrogen projects can benefit from our approach. They can use our transportation and distribution system. The result is a reduction in costs. The Duwaal project is being realized thanks in part to financial support from GroenvermogenNL and RVO. From the DEI+, HYGRO received a subsidy of €11.8 M from RVO and GroenvermogenNL to realize a 5MW electrolyser, 4 hydrogen refueling station and 66 iBundles.
Within the Duwaal project, a 5 MW electrolyser will be constructed next to the wind turbine in the Wieringerwerf. The hydrogen will be transported via a 5-kilometer pipeline to a hub station next to the A7 motorway. There is a hydrogen refueling station at the hub station and a docking station to fill the intelligent high-pressure interchangeable storage at 100 MPa (iBundles). These iBundles are also being developed in this project. The hydrogen will be transported to satellite stations with iBundles. The satellite stations can then cascade fill vehicles at 350 and 700 bar without a compressor. A filling protocol is also being developed for the filling stations to provide fast refueling, reduce cooling demand at the same time and reduce hydrogen return pressure in the iBundles. The goal of the project is to create a network of refueling stations that are leased on a scalable capacity (demand) per day basis.
HYGRO Energy owns and operates the chain. HYGRO Technology is the system integrator with several strategic suppliers. Avia-Marees provides the various locations and will actively stimulate the demand for hydrogen. Ontwikkelingsbedrijf NHN will take care of promotion and knowledge dissemination. TNO will validate all expected energy and efficiency gains.
The project started in 2022 and runs through 2025.
Our collaboration
Duwaal was set up by a group of companies, including HYGRO. We are receiving support in this from New Energy Coalition and Ontwikkelingsbedrijf Noord-Holland- Noord. So that we jointly and simultaneously organize supply and demand of hydrogen in Northwest Netherlands. Several parties have already joined our initiative and we are in the process of putting various subprojects into practice. The Duwaal project is being realized in part thanks to financial support from GroenvermogenNL and RVO .
Why work together?
Collaboration is crucial to prioritize projects that contribute to a rapid breakthrough of the hydrogen economy. We are working from a shared vision of the ultimate shape of the hydrogen chain. Within the Duwaal project, in addition to good coordination, we believe that scaling up and volume is important. Our goal is to create a publicly accessible transport and distribution system for hydrogen, just as is already the case with electricity and natural gas.

The meaning of Duwaal
Our name, Duwaal, is derived from the word "dual," meaning "twofold. For the smooth implementation of our project, it is important to create simultaneous supply and demand within a stimulating framework. This 'dual' approach avoids creating a situation that may hinder further development.

Details of the project:

In the Wieringermeer, HYGRO is realizing a wind turbine with integrated electrolysis for the production of hydrogen with:
ENERCON 4 MW wind turbine;
5 MW electrolysis system.
Interchangeable and scalable 1,000 bar storage and distribution system (iBundles).
Public refueling locations:
NXT Boekelermeer (Alkmaar) was realized first in collaboration;
AVIA Marees and HYGRO have signed a Letter of Intent (LOI) to establish a hub filling station at AVIA Marees' location in Wieringerwerf along the A7 to refuel with hydrogen (H2) at 350 and 700 bars;
AVIA Marees has also expressed with this LOI their intention to realize four satellite gas stations with HYGRO for 350 bar and 700 bar applications.
The sustainably produced hydrogen is used in so-called fuel cell electric trucks, vans or other hydrogen electric applications such as generators for construction sites. In addition to CO2 emissions, this also prevents noise, NOx and particulate matter emissions. The project provides a glimpse into the energy infrastructure of the future.